Welcome To Down East Dancers, Inc.
Down East Dancers, Inc. is a non-profit, volunteer, charitable organization, dedicated to the promotion of Country dance since 1990. We have donated to such organizations such as: Brockton Veteran's Hospital, Toys for Tots, Handi-Kids, Muscular Dystrophy, and other 501C charities
---
Come On Down and Join the Fun
Click to Play Our Video
Video provided by Alan Yasutovich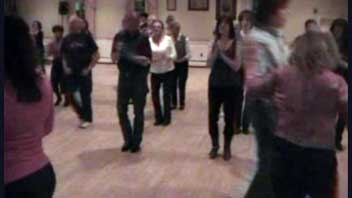 ---
All dances are OPEN TO THE PUBLIC.
Dances are held at the Holy Ghost Hall 545 Middleboro Ave. East Taunton MA. usually on the SECOND SATURDAY of each month
Admission is just $7 for members and $10 for non members

Contact Down East Dancers with suggested affordable dance locations with comparable dance floor size and the dates that you can volunteer to help out.

DIRECTIONS
---
Couples or Line Dance instruction at 7:30 p.m. by different instructors each month. Dancing for couples, line dancing and mixers: 8:00 p.m. to 11:30 p.m. The various DJs play LOTS of GOOD, danceable Country music for all styles and levels of dancing. Line dancers and couples are able to dance, at the same time, on the large dance floor, to every selection played.
A half-pot drawing and pot-luck refreshment table are also featured. Cash bar available for all beverages. ATTENDANCE has been averaging 100 or more Country dancers per monthly dance. Admission is still only $7 for members and $10 for non-members!
---
---
COME DANCE WITH MIMI
At BOURNE SCENIC PARK PAVILION
CAPE COD, MA - ALL SUMMER LONG
THURSDAYS FROM 7-9 PM  - FREE FOR CHILDREN
16 & under - ADULTS $6
mimileary@yahoo.com     
 
SOUTH SHORE COMMUNITY CENTER
3 N. MAIN ST. COHASSET, MA  $5
TUESDAYS AFTERNOONS 1:30 – 2:30 PM
---
Join now
Single Membership: $15;
Two memberships at the same address: $25

To request a Membership Form, please forward your e-mail address.
Membership is open, year round. All are invited to join Down East Dancers, Inc. and membership forms are available at the dances or a membership form can be snail-mailed or e-mailed to you.
TWO FREE admission tickets, per member, to a regular dance.
FREE admission to the Annual Meeting and Election Dance to members who attend on time and vote at that meeting.
Advance notice of Down East Dancers workshops and other dance functions.
FREE admission to Down East Dancers sponsored Workshops.
Reduced rates for flyers/ads included in the Newsletter mailings.
Reduced Admission rate for special dances held at other dance locations.